"That is such a turn on!" my wife exclaimed as I walked in the door. Her face had an expression of "Come and get me you stud!" I was already dripping with sweat, aching from head-to-toe and hot! 
EXTREMELY HOT! Not with sexual anticipation, but because I had
just
come in from mowing the lawn. This time… this time, I did it without anyone asked me. It turns out this is foreplay for my wife.
1) You Have to Focus on Foreplay
Foreplay means, "the activities that precede." It is preparation. It is the activities that we do to prepare for the play. In the arena of sex, foreplay is often focused on the physical touch before the actual act of intercourse. And while this is important, I've been learning that foreplay starts way before you ever get to the bedroom.
Foreplay Begins with Generosity
Good foreplay is acts of generosity.
My definition of generosity is "doing what you know the other person likes, without anyone asking you
. And gratitude if there is a return." If you want to be a generous lover, you have to start with the day-to-day.
What are the little things that your partner likes that communicate love? In other words, everything is foreplay. Trust me, better foreplay leads to better sex and to a better relationship. Learn to be generous in all that you do and you set yourself up for better sex.
One of the most important aspects of a healthy relationship is
being generous
. As a husband, I tend to forget that my number one job is to be generous to my spouse with my time, resources and affection.
In fact, if every person adopted the attitude of kindness without a selfish attitude there would be no need for marriage counselors
.
This opinion isn't the ramblings of a crazy man who blogs about relationships.
In their report, they found that spouses who scored high on the generosity scale had a high correlation with reporting being "very happy
."
The reverse was also true; the individuals reporting being unhappy had a greater report of lack of generosity in the relationship
.
According to the study, not only did these couples who reported higher levels of generosity experience happier marriages,  they also reported higher levels of sexual satisfaction
. Imagine, creating a satisfying sex life by doing more household chores.
Researcher Bradford Wilcox, who involved in the study stated: "What happens outside of the bedroom seems to matter a great deal in predicting how happy husbands and wives are with what happens in the bedroom
."
2) Generosity Doesn't Equal Expensive
You can be generous with your time and resources you already have available.
Here are several practical ideas for adopting an attitude of generosity in your relationship:
Please them

Verbally
And by that, I mean give compliments by be gracious and speak words of kindness to your partner.
Studies show that couples who practice a five to one ratio (five positive comments to every one negative remark) have a higher relationship satisfaction
. As Oscar Wilde once said, "Never love anybody who treats you like you are ordinary."
Make the Coffee
My wife wakes up earlier than I do because of her job. Every night, before I go to bed, I make the coffee.
I set the program to start brewing 10 minutes before her alarm goes off. I also place a cup next to the pot and get her creamer ready. When she wakes up, all she has to do is stumble into the next room, and it's all ready to go.
It's a small thing. A generous act can be something simple that your partner could do for themselves. You do it to make their life a little bit more pleasant and to let them know they are important.
Get Rid of the Scorecard
Nothing kills generosity quicker than an attitude of Quid-pro-quo. If you give to get, you will alway feel cheated. Instead, to be generous without the expectation of return.
Think about it; what if your partner did something for you with no expectation of return. How would that feel? Most likely you would feel loved. If your partner doesn't feel loved by you, then you're doing it wrong.
Make the Plan
You know what your partner likes, so make a plan to go to their favorite place, or do their favorite thing. Plan it, choose the time, make the arrangements and let them know in advance of your intentions.
If they don't want to do it, then change the plan to do the thing they want to do instead. Not because you want to, but because it's an act of generosity and an expression of love.
Do Something Shocking
There is something that if you did it, your partner would likely fall over with disbelief. Ask yourself this question: "My partner would be shocked (in a good way) if I did this: …." Now, do whatever that is.
For me, it was mowing the lawn.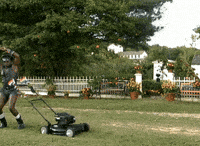 A satisfying relationship all boils down to two people seeking to be generous to each other.
Striving to meet your partner's needs in the bedroom as well as in the day-to-day activities is critical to becoming a generous lover
. Give it a try. You'll surprise at what happens. If nothing else, you'll have a well-groomed yard.